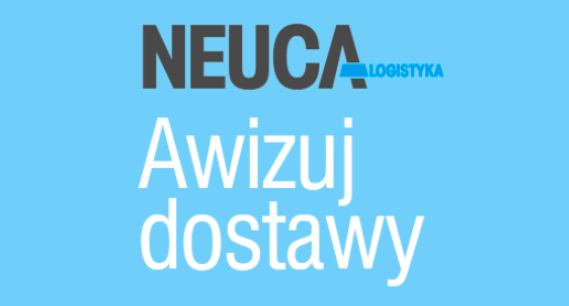 NEUCA
is the leader in wholesale distribution of pharmaceuticals. Neuca concurrently develops synergic businesses. It has a status of an expert in many tightly connected segments that cooperate with each other as a part of the health industry: wholesale, pharmaceuticals production, marketing, logistics, management of a clinic network, clinical trials, telemedicine, IT, advertising and media.
NEUCA Group is a company of innovations – it conducts numerous start-up projects and introduces new solutions to the health market.
Since
the improvement of communication with suppliers
as well as
the optimization of the delivery schedule
are key improvements in distribution companies, NEUCA has decided to implement
Time Slots
by Logintegra.
Wojciech Miąsko
Manager of Prosper Warehouse Logistics Bureau at Neuca:
What difficulties have been occurring prior to the implementation of the system?
WM: The adaptation of the system to requirements of the pharmaceutical and transportation law. Lack of a schedule for unloadings that resulted in arising of queues, lack of space on parking spots, no possibility for the optimization of employment in admission chambers. 
Why did you decide to pick the solution by Logintegra in the form of Time Slots? 
WM: The choice had been made after an analysis of several solutions available on the market.
Time Windows by Logintegra has been evaluated by the commission as
a tool that is the most clear, easy to use and accessible from any place
with Internet access.
What areas have you managed to improve after the implementation of the solution?
WM: The area of admission chambers, delivery buffering and parking spots.
What were your greatest fears about the implementation of the system?
WM: As far as warehouse logistics was concerned, after the functionality analysis and pre-implementation talks – no fears. As far as Purchasing Department was concerned – there was a concern that suppliers would have a problem with servicing and adapting to new requirements.
How did you manage to convince external contractors (carriers,
suppliers) to use the system?
WM: We have prepared a thorough brief in the form of a word-graphic pamphlet with clearly-depicted benefits for suppliers with a note that
NEUCA implements a standard without which deliveries will no longer be accepted.
What were the biggest obstacles at the moment of the system's implementation?
WM: Good planning and tests have allowed to avoid significant problems.
Have you managed to achieve the intended result after the implementation?
WM: Yes. About 93% of deliveries are notified correctly, 2% are couriers – courier windows, 5% are incorrectly submitted notifications that require amendments / intervention.
Is the product currently or will be in the future developed with regard to your requirements?
WM: It is and it will be adapted to our needs connected to continued 
need for the optimization of the supply chain.
Would you recommend Time Slots by Logintegra to other companies?
WM
: 
Yes, of course.